EBS Austro-Hungarian Empire 1892 Theatre & Music Exhibition Postal Card - Mint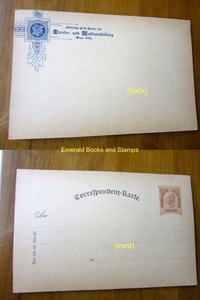 ---
Austro-Hungarian Empire
Österreichisch-Ungarische Monarchie
This postal card was issued in 1892 in connection with a theatre and music exhibition in Vienna.   
Stamp image is 2 Kreuzer stamp depicting Emperor Franz-Joseph.
(Please note that this is a single postcard, of which the front and back are shown, not two postcards!)
Available here in lovely mint condition.
1892, Kaiserkopf. Correspondenz-Karte. Theater- und Musikausstellung Wien