LED Wall Pack Light 60, 90 and 150 Watt Security Outdoor, UL-certified, Bronze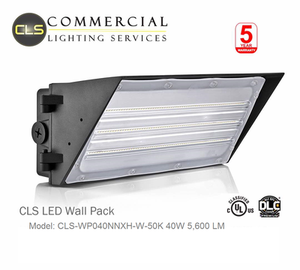 ---
USA Based Warehouse!!COMMERCIAL LIGHTING SERVICE is offering a unique look at drastically reducing your company's monthly utility bills and environmental impact without changing your operation and processes. You can take advantage of a technical revolution in LED lighting and reduce your expenses over a short time period making your business more profitable. We will provide you with an analysis including, COST SAVINGS, PAYBACK and INCENTIVES to give you everything you need to decide if a facility energy project makes financial and operational sense for your organization.Shipping is usually within 12 hours from USA local warehouse and delivered within 3 Business Days. Fast with Free shipping!!! We stand behind our products and strive for excellent customer service!About the Product:Commercial Lighting Services LED Wall Pack in 40/60/90/120 WattCommercial Grade LED Wall Packs 5 Year WarrantyUL DLC LED CertifiedAvailable with up to 21,000 lumens and 140 LPW. Up to 54,000 hour L90 lifespan5 Year WarrantyAvailable Color: BronzeTypes of product150W- 5000K- 83 CRI-  19,350Lumens / 130 LPW-   Model #: CLS-WP150NNXH-W-50K 14.2" x 8.7" x 7.96" 5.77lbs90W-  5000K- 83 CRI- 12,600Lumens / 140 LPW-   Model #: CLS-WP090NNXH-W-50K 13.9' x 5.24' x 6.40' 5.42lbs60W- 5000K- 83 CRI-  7800Lumens / 130 LPW-   Model #: CLS-WP060NNXH-W-50K 13.9' x 5.24' x 6.40' 5.13lbsInformation on the product  • 90 Watt Replaces 400-Watt Metal Halide or more. • Heavy-duty cast aluminum housing is polyester • Powder coated to be rust and corrosion proof • High-quality shatter-resistant glass • Top, bottom, and side knockouts for mounting convenience • 0-10V dimming driver standard; • LM-79/80/90 data available 

Application/Used:

LED Wallpacks are ideal for general outdoor applications.

Residential

Commercial 

Alleys entrances 

Parking areas 

Loading docks

Outbuilding 

Sheds 

Walkways

Entryways

Pathways

Apartments 

Perimeter lighting  

Hospitals

College campus

Schools

Warehouses

Factories

Benefits of LED lights:

LED lighting is FREE of environmentally harmful Mercury as well as Halogen chemicals. GO GREEN & CLEAN! 

LED lighting uses significantly fewer Watts (W) than conventional lighting. 

LED lights have a longer operating lifetime than that of conventional lighting.

LED lighting requires less maintenance and are built to last.

       

  View some of our other products you may be interested in!

Just Search CLS or Commercial Lighting Services in your category search bar! All products are based in a USA warehouse that strives on excellent customer service!

Contact Us:

*Call between 8:00am-6:00pm EST: 828-569-9038

*Email- lenny8774lights@gmail.com

Each product has a 20% restocking fee charge, on any items returned.