Ohbabyka Reusable Pocket Diapers Baby Cloth Diaper Washable Baby Nappies Cover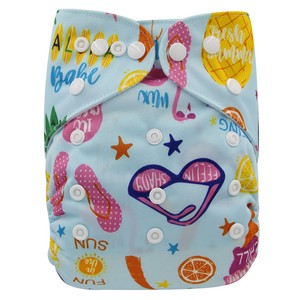 ---
Store CategoriesStore CategoriesBrand Girls DressesGirls Long Sleeves DressesGirls Summer DressesKids Tops&TeesGrils T-shirtsBoys T-shirtsChildren Clothing SetsBoys SetsGirls SetsBaby Cloth DiapersSwim DiapersBasic Cloth DiapersAI2 DiapersAIO DiapersOtherBoys Girls Cloth Diapers Pocket Diapers Baby Nappies Unisex Washable Nappy

Product View

Details

We are a big professional baby diapers manufacturer and wholesaler in China with our famous brand name OhBabyKa, We do many kinds of Baby Swim Diapers,Reusable Diapers,Inserts,Women Sanitary Pads.We have more than 500 designs for sale and we do inventory sales/OEM Service Offered , Custom Prints Offered , Buyer Label Offered! If you check carefully,you will find our price are lowest among all.Looking for world wholesalers doing business together!  

Be confident to buy our Ohbabyka cloth diapers! Our diapers are made with excellent quality material and passed SGS safety tested.

Diaper Material: - Outer Layer:      Waterproof Printed PUL/TPU - Inner Layer:      Soft Suede Cloth Inner   How many diapers do you need? - Newborn to 4 months -- 20~30 diapers - Infant (4 to 10 months) -- 20~25 diapers- Toddler (over 10 months) -- 15~20 diapersIt depends on how often you do laundry.   Features: - Size:      For babies weighing 3 - 15 kg (6.5–32pounds) - Dimensions of insert:      35cm in length (13.77``) X 13.5cm in width (5.31``) - Wash temperature:     Under 30°C. (Less than 86 °F) (ATTENTION: Please wash diaper cover and the insert separately,  please do not wash diapers together with your other clothes. You can add a little salt in the water when you wash diapers       - One size design:      S.M.L all in one size. (Please adjust the button according to the body size of baby) Shipping PolicyPayment MethodReturns PolicyShipping PolicyShipping

We only ship to the address shown in PayPal.

Please make sure your delivery address is correct in PayPal before making payment.

Item will be shipped within 1 work day after the payment is cleared on seller's side.

(E-check will be held until cleared)

The estimated time of arrival:
| | |
| --- | --- |
| 10-20 work days: | United States, Canada, United kingdom, Australia, Japan |
| 15-25 work days: | Indonesia, Thailand, Malaysia, Philippines, Mongolia, Israel, and other Asian countries. |
| 15-25 work days: | Italy, Spain, Portugal, Poland, Germany, France, Latvia, Lithuania, Romania and other European countries. |
| 20-38 work days: | Russia, Brazil, Argentina and the rest of the world. |
If you need other expedited shipping, please contact us firstly as you may be required to pay for the extra shipping cost.

There might be occasional delay on international shipping due to customs check, bad weather, flight delay.

If the item is delayed please do contact us first and we will check it immediately.

Payment MethodReturns Policy

Copyright©2017 DataCaciques

HomePaymentShippingAbout usContact us

Brand Introduction
W.L.MONSOON, One of the world's most desirable fashion brands. Best known it is for children evokes opulence and playfulness, luxurious fabrics with elaborate, fun characters and elegant creations.
Boys Girls Cloth Diapers Pocket Diapers Baby Nappies Unisex Washable Nappy

Details

We are a big professional baby diapers manufacturer and wholesaler in China with our famous brand name OhBabyKa, We do many kinds of Baby Swim Diapers,Reusable Diapers,Inserts,Women Sanitary Pads.We have more than 500 designs for sale and we do inventory sales/OEM Service Offered , Custom Prints Offered , Buyer Label Offered! If you check carefully,you will find our price are lowest among all.Looking for world wholesalers doing business together!  

Be confident to buy our Ohbabyka cloth diapers! Our diapers are made with excellent quality material and passed SGS safety tested.

Diaper Material: - Outer Layer:      Waterproof Printed PUL/TPU - Inner Layer:      Soft Suede Cloth Inner   How many diapers do you need? - Newborn to 4 months -- 20~30 diapers - Infant (4 to 10 months) -- 20~25 diapers- Toddler (over 10 months) -- 15~20 diapersIt depends on how often you do laundry.   Features: - Size:      For babies weighing 3 - 15 kg (6.5–32pounds) - Dimensions of insert:      35cm in length (13.77``) X 13.5cm in width (5.31``) - Wash temperature:     Under 30°C. (Less than 86 °F) (ATTENTION: Please wash diaper cover and the insert separately,  please do not wash diapers together with your other clothes. You can add a little salt in the water when you wash diapers       - One size design:      S.M.L all in one size. (Please adjust the button according to the body size of baby) Shipping PolicyPayment MethodReturns PolicyShipping PolicyShipping

We only ship to the address shown in PayPal.

Please make sure your delivery address is correct in PayPal before making payment.

Item will be shipped within 1 work day after the payment is cleared on seller's side.

(E-check will be held until cleared)

The estimated time of arrival:
| | |
| --- | --- |
| 10-20 work days: | United States, Canada, United kingdom, Australia, Japan |
| 15-25 work days: | Indonesia, Thailand, Malaysia, Philippines, Mongolia, Israel, and other Asian countries. |
| 15-25 work days: | Italy, Spain, Portugal, Poland, Germany, France, Latvia, Lithuania, Romania and other European countries. |
| 20-38 work days: | Russia, Brazil, Argentina and the rest of the world. |
If you need other expedited shipping, please contact us firstly as you may be required to pay for the extra shipping cost.

There might be occasional delay on international shipping due to customs check, bad weather, flight delay.

If the item is delayed please do contact us first and we will check it immediately.

Payment Method

Payment

We only accepy Paypal payment.

If you have any difficulty on payment, pls contact us ASAP.

Returns Policy

Returns

Hope our product will let you 100% satisfy

If not, contact us first, then please you can return the item to us within 30 days.

We are willing to refund full payment or exchange.

HomePaymentShippingAbout usContact us

Copyright©2017 datacaciques